Husky Haven is Celebrating 39 years of Siberian Husky Ownership
Thank you for visiting! We are thrilled you are interested in this great breed we so dearly adore. Learn why we started rescuing Siberian Huskies in 1982 by viewing the About Us page. To learn about the Siberian Husky and find out how to proceed with adopting, read the FAQs. If you'd like to continue, complete an Application. To view dogs currently needing your love and commitment, see our Available Dogs, but keep in mind there may be several new huskies entering our program not yet pictured. Please take a look at those who have found forever homes on the Saved Lives page.

This video describes all of the challenges facing Husky Haven of L.A.
If you'd like to help us continue to save the lives of Siberian Huskies in need, learn what you can do to Support Us. If you'd like to learn more about Siberian Huskies on a "hands on" basis, consider visiting our new 2-acre facility north of Los Angeles.
Please consider giving your time by volunteering at an adoption event, or helping us work with the dogs at our kennel.
Contact Us
E-Mail: huskyhavenofla@hotmail.com
Phone: 661-266-9779 or 661-675-9065 (cell)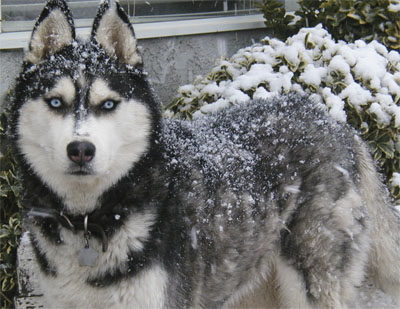 He is your friend, your partner...your dog.
You are his life, his love, his leader.
He will be yours...faithful and true to the
last beat of his heart!
You owe it to him to be worthy of such devotion.
-Anonymous