Kennel & Training Services
OUR FACILITY
Husky Haven of LA is a fully insured and licensed kennel with an "A" rating by Los Angeles County Animal Control. We are an owner-operated facility with live-in supervision 24-hrs a day. We have owned dogs for 30 years and trained dogs professionally for 8 years. Husky Haven of LA provides American Red Cross Pet First Aid/CPR Instructors.
LOCATION
We are located in Palmdale, Ca conveniently adjacent to the Antelope Valley Freeway between Avenue N and O, just north of the AV shopping mall. We offer transportation from the Santa Clarita Valley and north end of the San Fernando Valley several times weekly.
OUR KENNELS
Our kennel consists of large spacious runs in single, double and triple capacities which are accompanied by large play yards offering plenty of canine and human interaction, if desired. Each dog has his own dog house and bed. We can use food you provide or we will supply. We offer daily/nightly "treats". We can also train your dog on a limited basis while you are away. (See training section) Being the home of "Husky Haven of La", our doors are always open for husky owners in need of short or long term boarding. We also offer discount boarding prices for those who have adopted from us. Our rates range from $12-$18 per dog per 24-hr period and discounts are given for multi-dog occupancy and long-term needs. Please contact us for exact boarding fees.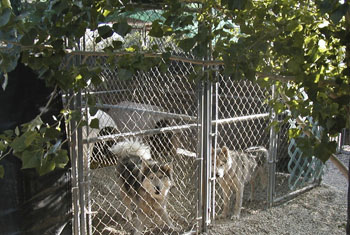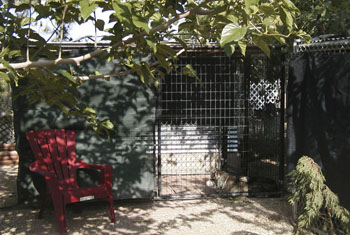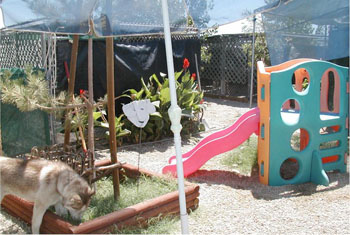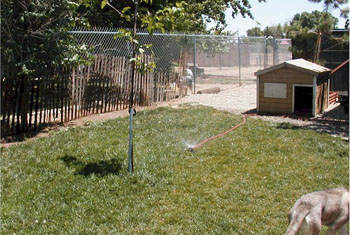 Click on pictures for a larger image
SERVICES PROVIDED
Doggy Day Care
Do you need a place for your dog to expend his energy while you are away?  Would you like to see your dog improve his dog socialization skills? Or just a watchful eye when you're going to have a long day........Leave your canine companion with us and they can play with other dogs, chase balls, splash in our play pools. When you return, they will be "played out" and a pleasure in your company.


DayCare Rates:$10 for 8-hour stay, $12 for 10-hour stay, $14 for 12-hour stay
Training Services
Although we specialize in Siberian Huskies, we have successfully trained all dog breeds and their owners.


We offer basic and advanced obedience classes for puppies and adult dogs in a private or group setting. We can also assist with techniques for annoying behaviors such as jumping up, digging, barking, etc.


If you adopt a husky from us, you are entitled to a complimentary 8-wk group obedience class given at our facility.


Our classes are designed for the dog owner seeking basic obedience guidance and the intermediate owner seeking to enhance the basic skills they have conquered. All our classes are given on a "lifetime basis"; meaning you are welcome to return whenever you would like at no additional cost.
---
MEET YOUR TRAINER
Rhonda possessed many years of experience evaluating and correcting the habits of unwanted Siberian Huskies seeking new homes before deciding to train professionally. She became a certified trainer in puppy, basic, intermediate and advanced obedience/problem solving with Petsmart teaching private and group classes in Petsmart stores.
After 2 years with Petsmart, she developed her own program which could be applied in park settings, pet stores, or private homes. This new program allowed a dog owner the ability to evolve to off-leash training, if desired.
TRAINING PROGRAM
Our training program consists of verbal, as well as, written homework and requires daily practice in order to succeed. If the dog owner applies this instruction and practice techniques, success is guaranteed! Please contact us for current class information.